STQBU is a series of multi-functional Pockels cell drivers of hi-end class. In contrast to analogues, they can provide rapid switching of input voltage in two directions: both up and down. STQBU-Series Pockels Cell Driver is extremely flexible solution for driving of the Pockels cell that works upon any user-defined scheme (that may be pull-up, pull-down schemes or any combinations of them).
Modules provide wide range of output direct voltages (up to 5kV). It allows operation with Pockels cells assembled on different electrooptical crystals from low quarter-wave voltage Lithium Niobate and BBO to DKDP that requires much higher voltage levels for proper operation.
Moreover, STQBU-Series modules provide high repetition rates (up to 100kHz) that makes them a good solution for electro-optical Q-switched lasers with CW pumping. On the other hand a short rising (falling) time allows operation in short-pulsed systems with high peak output power and energy (flashlamp pumped Nd:YAG lasers).
Another advantage of STQBD-series drivers is an ability of handling with extremely high loads (up to 0.5 nF). This feature leads to higher reliability of the device and permits remote operation of Pockels cell in laser head that can be connected to driver using long cables (correct and effective operation has been approved with cables up to 3 meters). This allows the designing of Q-switched laser systems with compact remote laser heads where close placement of Pockels cell and driver is impossible because of volume insufficiency or other causes.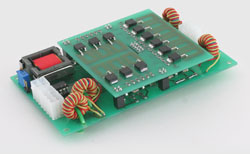 Features
l Extremely flexible solution
l Pull-up and pull-down schemes
l Up to 5 kV output voltage
l Up to 0.5 nF load
l Compact OEM design
l Long cable operation
l Up to 100 kHz repetition rate
Specifications
| | |
| --- | --- |
| Input: | |
| Voltage | +24VDC |
| Output: | |
| Voltage | up to 5 kV |
| Repetition Rate | from single pulse to 100 |
| Load | up to 0.5 nF |
| Rise time (Fall time) | 20 ns |
| Recovery Time | 10 us |
| | (depends on load, @ 100 |
| Safety: | |
| Leakage Current | not more than 150 uA |
| Environment: | |
| Operation Temperature | -20…+45 C |
| Storage Temperature | -40…+85 C |
| Humidity | 90%, non-condensing |
| Size (LxWxH) | 130x80x20 mm |
| Weight | 0.1 kg |
| Options | Harsh environment version |
Part Number Description:
STQBU-XXYY
STQBU – STQBU series EO Q-switch driver
XX – maximum output voltage from 20 to 50 (2 - 5kV)
YY – minimum output voltage from 12 to 20 (1.2 – 2.0kV)

Output Waveform:
We offer four standard solutions:
STQBU-5020
STQBU-4016
STQBU-3012
STQBU-2008
Other output voltages from 0.8 to 6 kV are available on request
Options
Adjustment range of output voltage (see figure) can be selected within the following model series: STQBU-6024 (2.4-6 kV), STQBU-5020 (2-5 kV), STQBU-4016 (1.6-4 kV), STQBU-3012 (1.2-3 kV), STQBU-2008 (0.8-2 kV). Time of rapid pulse growth (20 ns) is indicated red on figure time of same rapid slump is indicated blue (20 ns). Adjustable voltage level is designated by the arrow.
Application
STQBU-Series Pockels Cell Drivers are available in standard and special versions. Standard modification is a relatively simple OEM device designated for operation in laboratory or medical laser systems at normal temperature and humidity conditions. These modules are designed in accordance with IEC60601-1 medical safety standard requirements. Output parameters (direct high voltage) are controlled by use of analog interface.
Special version is available for laser systems designated for operation in harsh environment. These devices are distinguished due to wide operation temperature range, humidity and vibration steadiness. In this version all parameters are controlled by simple and reliable internal multi-turn trimpots.
Working Scheme