The development of specialty fibers for the Mid-Infrared region has resulted in a unique product - Core/Clad Polycrystalline Infra-Red (PIR-) fibers. The PIR-fibers are non-toxic, very flexible, transparent across a broad spectral region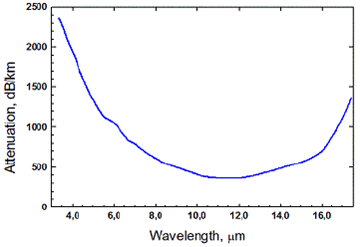 4 -18μm and capable of operating over the wide temperature range of 4K up to 420K. They are manufactured in a core/clad structure of superior quality from pure AgCl: AgBr solid solution crystals using an innovative vacuum extrusion method. They possess by no aging effect compared to an alternative bare core fiber. The range of PIR-fiber cables are available with a durable PEEK polymer jacket and terminations using either an SMA - type connector with a Ti or polymer ferrule or special one, manufactured on customer request. A wide variety of different optical coupling units can also be designed & fabricated for specialized customer requirements.
Fiber Features:
• high transmittance from 4μm up to 18μm
• high flexibility and no toxicity
• suitable for CO2 - laser power delivery up to 50W
• low Attenuation at 10.6мm (0.1-0.5 dB/m)
• fiber diameters from 0.3 to 1.0mm
• fiber lengths up to 20m (for 0.5mm diameter)
• no aging effect
Standard Fiber Specification:
Standard Fiber Core/Clad Diameters

Other fiber diameters in 0.3-1.5mm range are also available (request on special fabrication)

240/300, 400/500, 630/700, 900/1000μm

Transmission range

4-18μm

Attenuation at 10.6μm

0.1-0.5 dB/m

Refractive index

2.15

Standard Effective NA

0.25

Laser Damage Threshold for CW CO2-laser

>12 kW/cm2

Melting point

415°C

Tensile strength

>100 MPa

Minimum Bending Radius (fixed)

10x[Fiber Diameter]

Minimum Elastic Bending Radius

100x[Fiber Diameter]
PIR-fibers are protected by a loose PEEK-jacket (PolyEtherEtherKetone) to provide stiff, flexible and hermetic protection against mechanical, photoinduced and chemical damage over a wide temperature range up to 250°C.
Standard Cable termination with a special Ti-ferrule SMA-connector:
• for low power (spectroscopy & radiometry) applications;
• for high laser power delivery - free standing fiber end ;
• standard cable length - 1m & 2m.
PIR-fiber end-surface treatment:
• Cutting low cost, high performance - standard;
• Polishing for special application, including AR-coating - on request;
• SMART for reduced reflection of high CO2-laser intensity - on request.
Options
• accessory kits for remote spectroscopy with FTIR, QCL and TDL-spectrometers;
• pig-tailing of IR-detectors: TE- & LN-cooled MCT, PbSe, thermopiles, etc.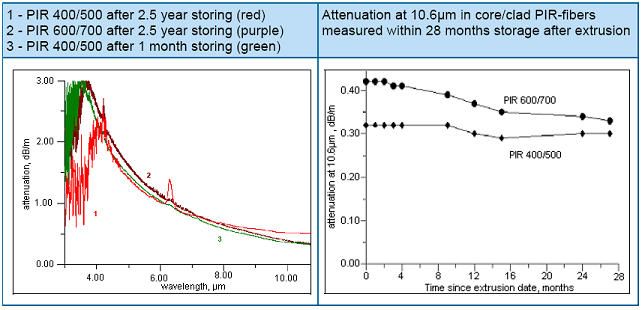 Diverse Methods of AR-coating and SMART-treatment

Comparison of Standard and Spectral PIR-fibers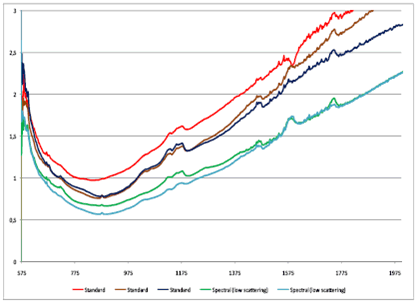 Applications
• Flexible delivery system for CO and CO2 laser;
• Flexible IR-imaging systems;
• Remote non-contact pyrometry in the 100-600K range;
• Fiber probes for remote in-line, in-vivo and process IR - spectroscopy.