The UV-VIS-NIR scanning spectrophotometer is a universal instrument designed specifically for unattended measurement of optical parts with coatings. The instrument is produced in six configurations relative to effective spectral range meeting individual customer measurement needs - from 380-1700 nm up to 190-4500 nm.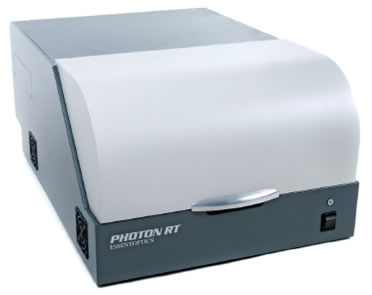 The configuration of the spectrophotometer in many respects changes the approach to the simplicity, versatility and speed of measurements. The measurement of absolute reflectance and transmittance at variable angles and polarization modes are carried out unattended and without any additional assemblies.
Original optical scheme of the spectrophotometer includes a reference channel and provides for study of optical parts from 10mm up to 120mm in diameter.
Extensive QA/QC analyses, research and development of advanced thin film materials is supported with the built-in determination of n, k, and d parameters in the UV-VIS-NIR range with spectrophotometric reverse engineering.
The spectrophotometer ensures trustful measurements with a spectral resolution up to 1.2 nm, photometric accuracy to 0.0050 and repeat accuracy up to 0.0025 in transmission mode meeting the modern requirements for various research studies.
The instrument is very compact and convenient for everyday use. The body with a large lid offers easy and unobstructed access to the measuring compartment allowing the optical parts to be placed quickly and securely.
The 2 year warranty is provided as standard.
Features and Capabilities
• Transmittance T, Ts, Tp (for angles 0-75°)
• Absolute reflectance R, Rs, Rp (for angles 8–75°)
• Unattended measurement and calculation of T(s+p)/2 and R(s+p)/2 for selected angle of incidence
• nkd determination in UV-VIS-NIR range with spectrophotometric reverse engineering
• Measurement of polarizing beamsplitters
• Optical density of the sample, 0 – 4 (D)
• Integral values for R and T for selected spectral range
• Light scattering indicatrix for transmittance and reflectance
• Kinetic measurements
• Color coordinates
Specifications
OPTICAL CONFIGURATION
Optical scheme of monochromator

Cherny-Turner

Optics

Mirror, Al + SiO2, Al+MgF2

Reference channel

Yes

Wavelength sampling pitch, nm

0.5 to 100

Wavelength scanning speed, nm/min

3000 (at 5 nm wavelength sampling pitch)

Spot size on the measured sample, mm

6x1

Photometric functions

%T, %R

Tuning pitch angle of sample table

0.1˚

Turning pitch angle of photodetectors

0.1˚

Positioning accuracy of the tuning pitch angle of sample table

0.05˚

Effective spectral range, nm

(instrument configuration options)

190-1700, 190-2700, 190-4500, 380-1700, 380-2700, 380-4500

Spectral resolution, nm *

190-1000 nm

1000-2700 nm

2500-4500 nm

Up to 1.2

Up to 2.4

Up to 4.8

Wavelength accuracy, nm

+/-0.24

Wavelength repeat accuracy, nm

+/-0.12

Scattered light level, % max (@ 532 nm)

< 0.05

Angle of beam divergence

2˚

Photometric accuracy

0.0050 х T

Photometric repeat accuracy

0.0025 х T

Stability of baseline, %/hour **

0.1 (30 minutes warm-up time)

Light source

Deuterium lamp, Halogen lamp

Built-In Polarizers

S-polarization, P-polarization

Standard: 380 -2200 nm

Optional: 220 -2200 nm, 220-4500 nm, 380-4500 nm.
SAMPLE COMPARTMENT
Sample table

For measurement of transmission and reflection of plane samples with size bigger than 12x10 mm

Independent setting

Independent positioning for sample table and photodetectors unit

Synchronized setting

Synchronized positioning for sample table and photodetectors unit depending on the chosen photometric function (R or T)

Size of samples

Min. 12x10 mm – for measurement at 0-10 deg incidence angles.

Min. 12x25 mm -for measurement at 10-60 deg incidence angles

Max. sample size – up to Ø120mm
INTERFACE, DIMENSION AND WEIGHT
| | |
| --- | --- |
| Interface | USB 2.0 |
| Power consumption, Wt | 110 |
| Power input | 110/220 V, 50/60 Hz |
| Width x Depth x Height, mm | 420 x 610 x 270 |
| Net weight, kg | 35 |
| Supply set | Spectrophotometer, Operation Manual, USB cable, power cable, software package, spare halogen lamp. |
* measured at optimum signal/noise ratio
**after 30 minutes warm-up time

Ultrashort Pulse Nonlinear Spectrometer Photon detector